SMART, INTEGRATED AND FUNCTIONAL SOLUTIONS LEADING TO A NEW LEVEL OF DIGITAL MARKETING
More and more companies are using digital screens to attract the customer's attention and introduce their services and products. They are a great way to strengthen the reputation of any brand and its products or services, and at the same time, increase the company's profitability.
Sound & Vision is an importer and distributor of Hisense and Samsung LFD advertising information screens.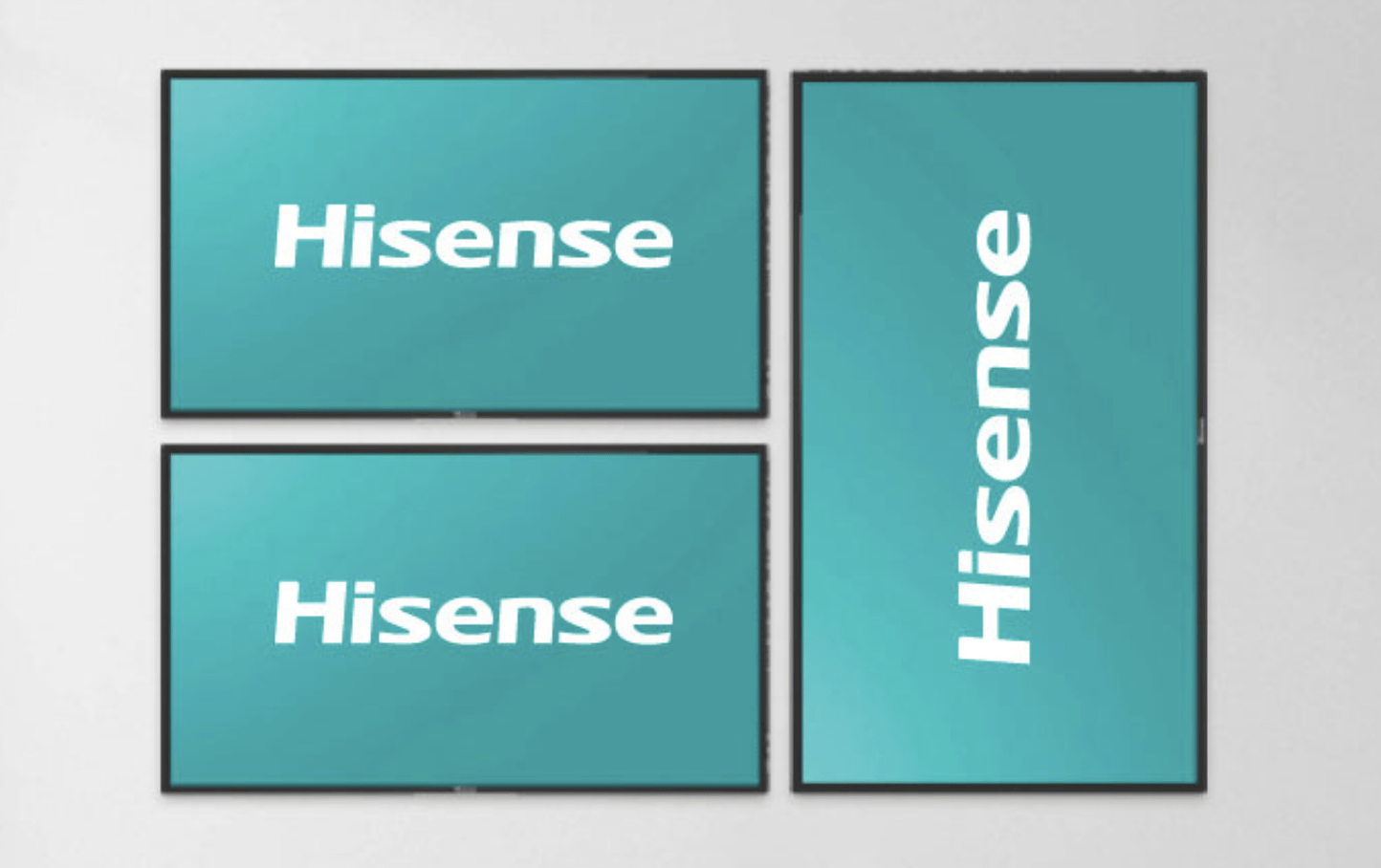 Hisense E-Series
Designed with dual-core on-chip (SoC) technology, the Hisense B4E30T series can be used to deliver both offline and cloud-based content 16 hours a day, 7 days a week. You are free to choose your content management software to run your ads. If necessary, the internal memory allows to store and play media for instant messaging
without a computer.
Hisense B4E30T digital displays (32 "/ 43" / 50 "/ 55" / 65 "/ 75" / 86 ") are ideal for retail and business environments. They make up integrated digital content for supermarkets, restaurants, malls, and office buildings. Their design makes the screens blend into their business environment, and their brightness of more than 400 nits makes your digital content vivid and outstanding. The result is more efficient information sharing and, consequently, higher sales.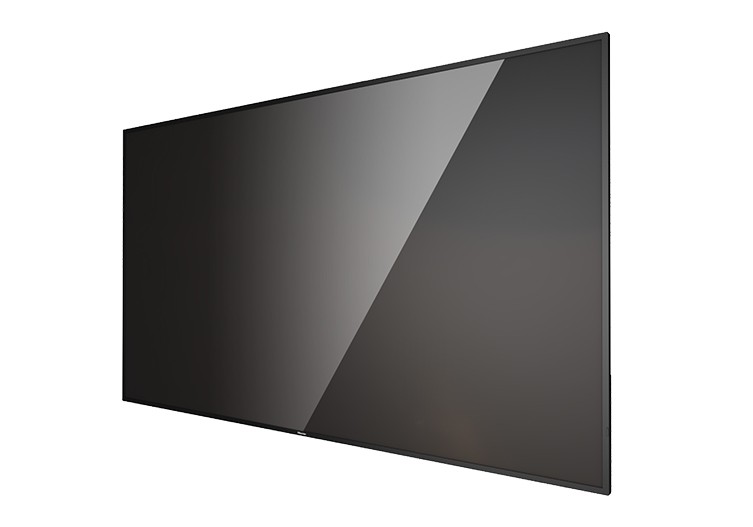 Hisense BM-Series
Hisense BM66AE digital screens (49 "/ 55") are ideal for public transport and retail venues. Their slim body design makes them blend in with the surroundings, and the message on your screen stands out. All this with flexibility and reliability, required for 24-hour (24/7) delivery in locations using light sensors, intelligent temperature control, and dual-core SOC technology for offline or cloud-based content management. You can be sure that your content will be delivered around the clock in an elegant, vibrant and reliable way.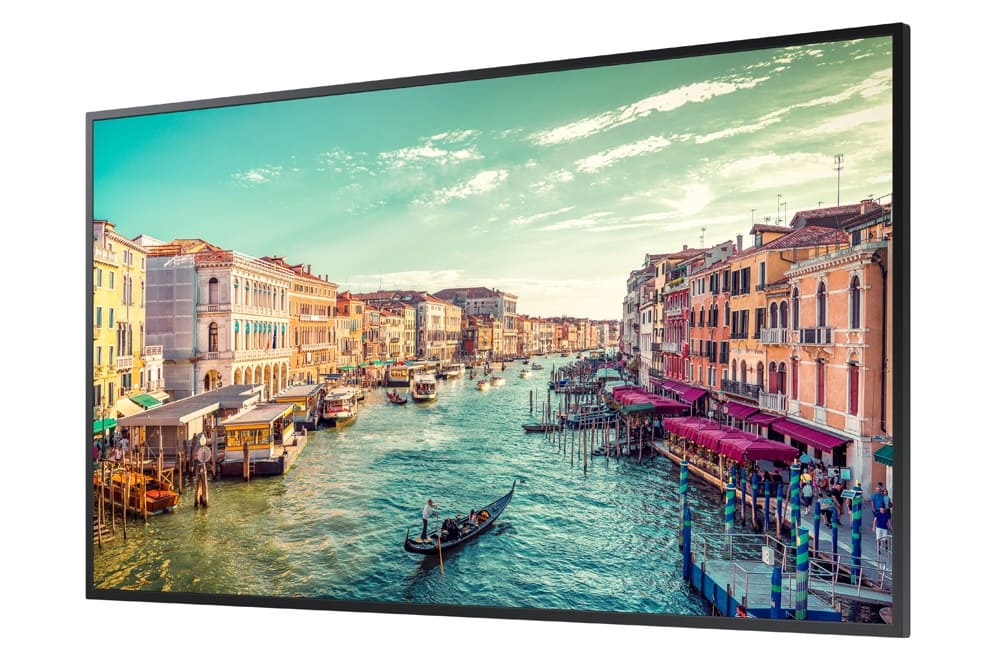 Samsung QMR-Series
Engage customers with lifelike images with high-precision resolution. Deliver UHD-level image quality with lower-resolution content with innovative UHD magnification technology and unique image-enhancing features.
The QMR series (32"/43"/49"/55"/65"/75"/ 85 ") has a dynamic crystal display that uses 10-bit processing for flawless color expression. This allows viewers to enjoy a wider range of colors, up to a billion shades. HDR + compatibility converts standard definition content to HDR quality for sharper contrast and brighter colors.
The QMR series features reliable, anti-reflective panels that provide better visibility from every angle, allowing companies to provide accurate information around the clock in places where clear and accurate information is crucial, such as airports and train stations.
Built-in Wi-Fi and Bluetooth enable more personalized and interactive services and make it easier to present business content. Whether it's making network connection easier or enabling interactive beacon technology in-store, QMR Series displays are helping businesses move into the future of retail.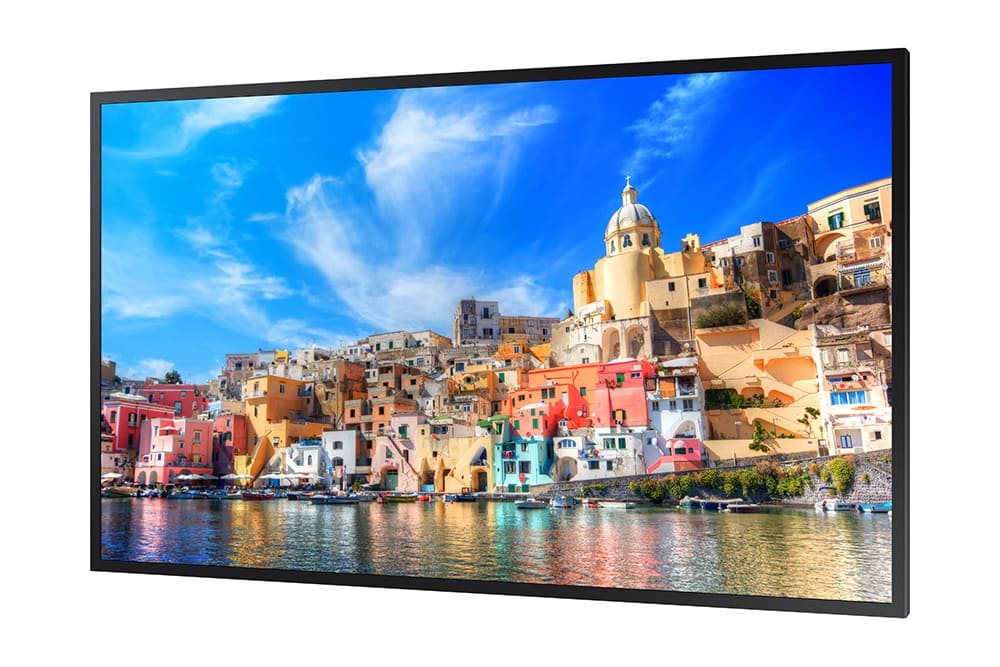 Samsung OM Series – High Brightness Screens
Extremely high brightness, emphasizing the content, regardless of lighting conditions
Slim and modern design that integrates seamlessly into any display window
Easy content management with a built-in management solution
The Samsung OM Series (46"/55"/75") was designed with the store window display in mind. Its large UHD screen projects clear and bright images that capture customers' attention with lifelike visuals, engaging audiences and increasing the likelihood of a store visit.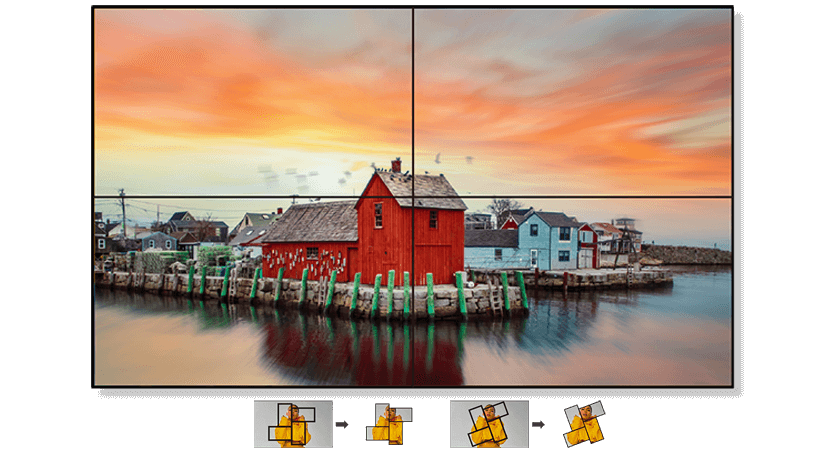 Hisense Video Wall
Create a powerful visual experience with our Hisense (49 "& 55") video walls. To streamline video content and illustrate minimal visual interference, our screens feature an UNB (Ultra Narrow Bezel) and ENB (Extra Narrow Bezel) design.
Hisense IPS screens deliver the clearest image in both landscape and portrait orientations without image distortion. The IPS also provides an extremely wide 178- degree viewing angle for the most accurate image quality. With a 24/7 operating system, you can deliver vivid messages without worrying about darkening the panels.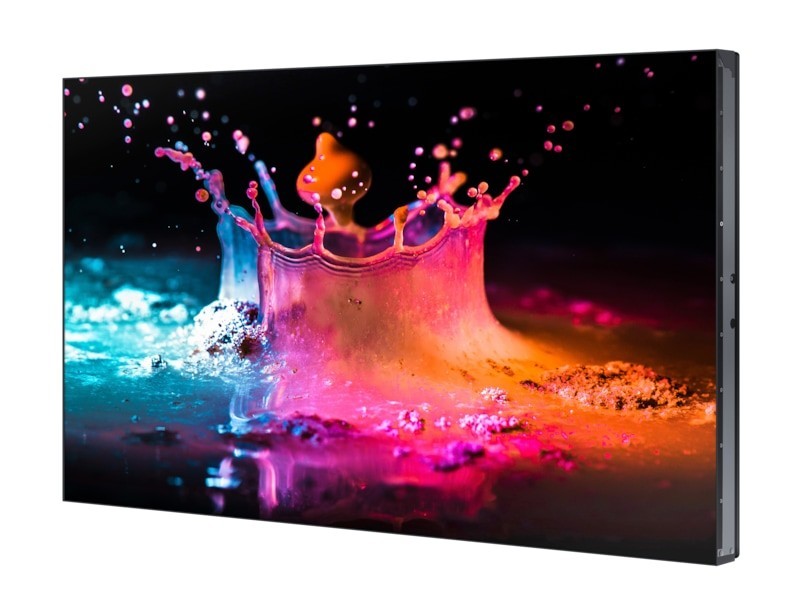 Samsung Video Wall
Engage your audience with a narrow frame and optimized panel design.
The enhanced panel quality of Samsung's video wall (available in 46- and 55-inch sizes) improves visual messaging. The screen has a particularly narrow 3.5 mm from frame-to-frame design format (2.3 mm on the left and top, 1.2 mm on the right and bottom), which is the thinnest frame in the video wall industry. A virtually uninterrupted viewing experience so that the audience focuses on the content rather than the screen itself. Under various environmental conditions, video wall panels may lose image quality due to distortion and irregular color reproduction. To ensure consistent display clarity and uninterrupted delivery in any work environment, Samsung video panels pass a rigorous performance test. Each screen has a reinforced panel that prevents heat, weather, and other stressful conditions. Therefore, the Samsung panel prevents the screen from darkening, light leaking, or the image quality from deteriorating. The anti-glare panel also allows messages to reach an audience regardless of light reflection. All of these advanced panel quality features enable long-lasting delivery of great content and a superior viewing experience.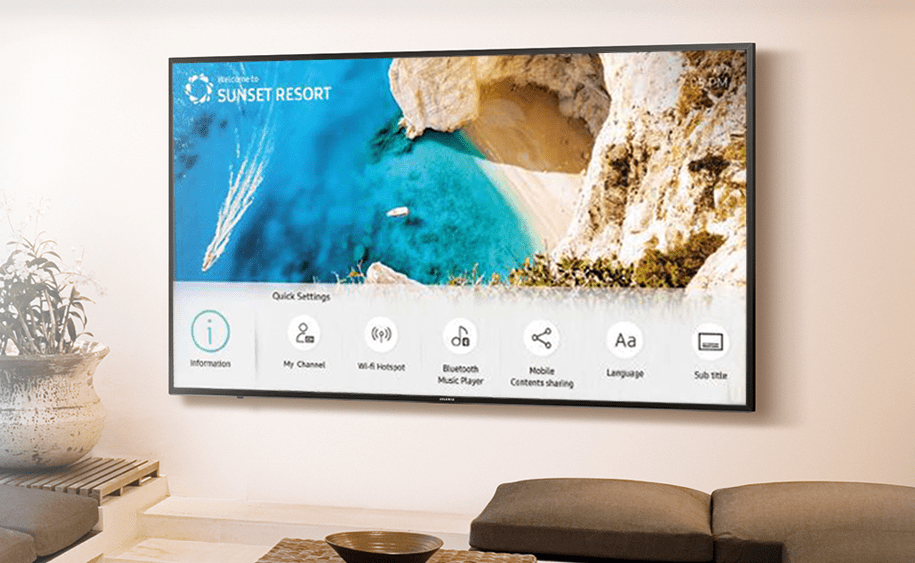 Smart Hospitality Display
Attract your guests with vibrant, high-resolution screens powered by Samsung's innovative technology.
Amazing 8K resolution – Dive into every frame. 33 million pixels and unsurpassed resolution experiences on live screens.
Perfect colors – Each color creates a breathtaking image with Quantum Dot Technology 100% color. Bright highlighted images and dark shadows are displayed at any brightness or angle.
Communicate with guests easily – Communicate directly with guests by sending messages using LYNK REACH.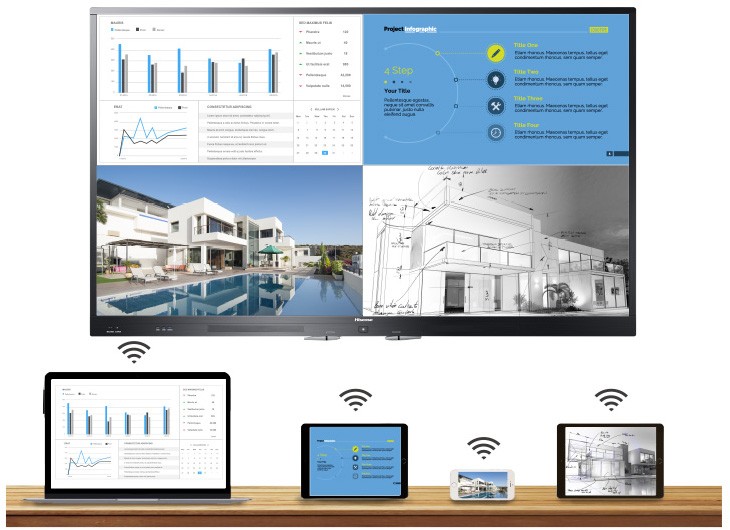 Hisense WR-Series
Hisense WR touch screens (65 "/ 75" / 86 ") are designed to facilitate the sharing of inspiring knowledge in both business and educational environments. They are touch- sensitive and can be used by several people at the same time to present, illustrate and share ideas and information. Creating a collaborative, communicative, and interactive atmosphere that makes user groups thrive.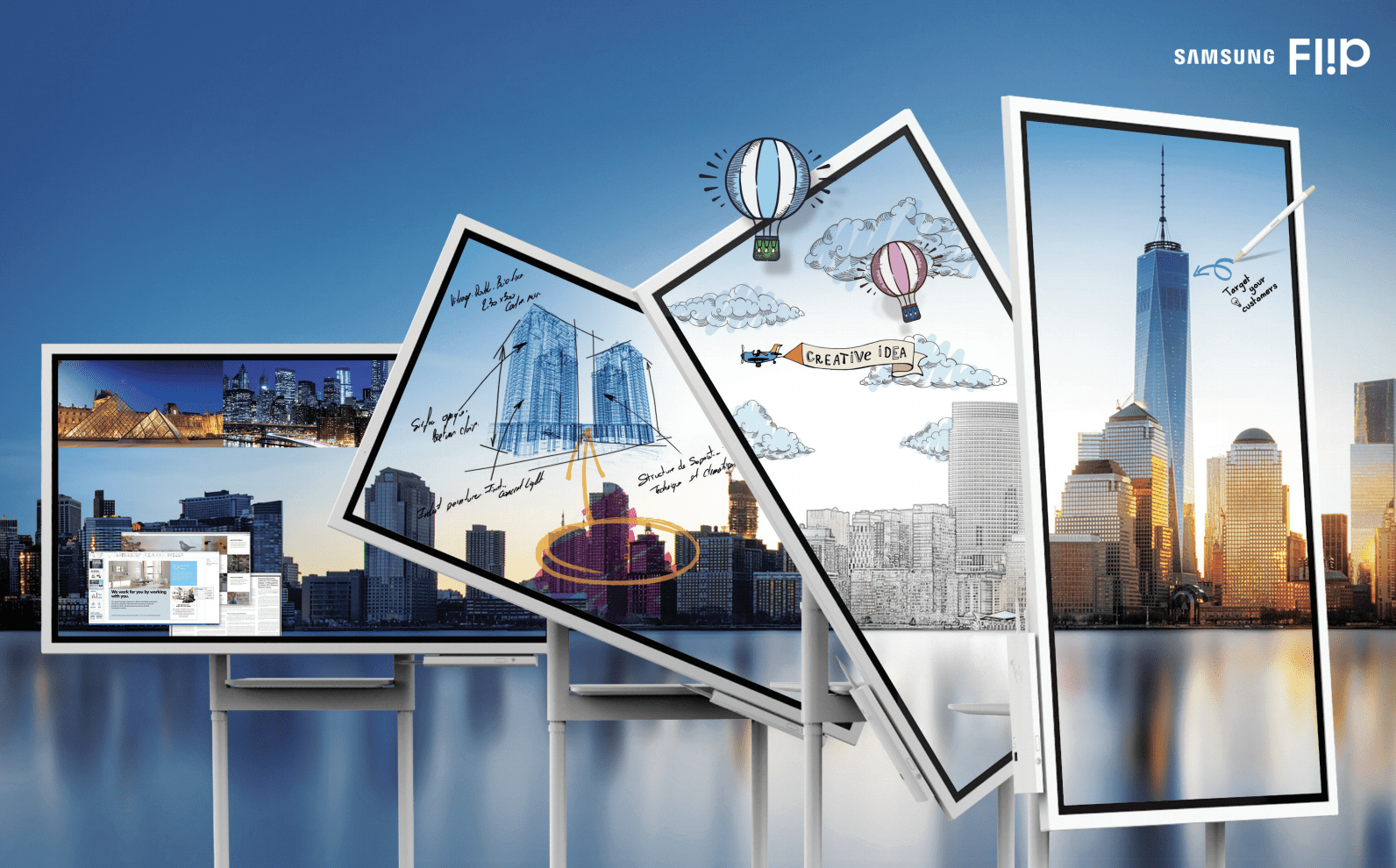 Samsung FLIP
The Samsung Flip (55"/65") is an ideal meeting board where everyone can draw at once. Up to four people can take notes at a time using the included pen or any other writing tool. You can easily control the contents of your personal mobile phone or tablet reflected on the Samsung Flip-screen with Samsung Flip.
Take your regular meeting to the next level. By connecting Samsung Flip to a mobile phone, you can display images, graphics, and other important files directly from your personal mobile phone or tablet. And what's better, the Samsung Flip expands creativity without sacrificing convenience, offering the same writing capabilities as a regular whiteboard or paper.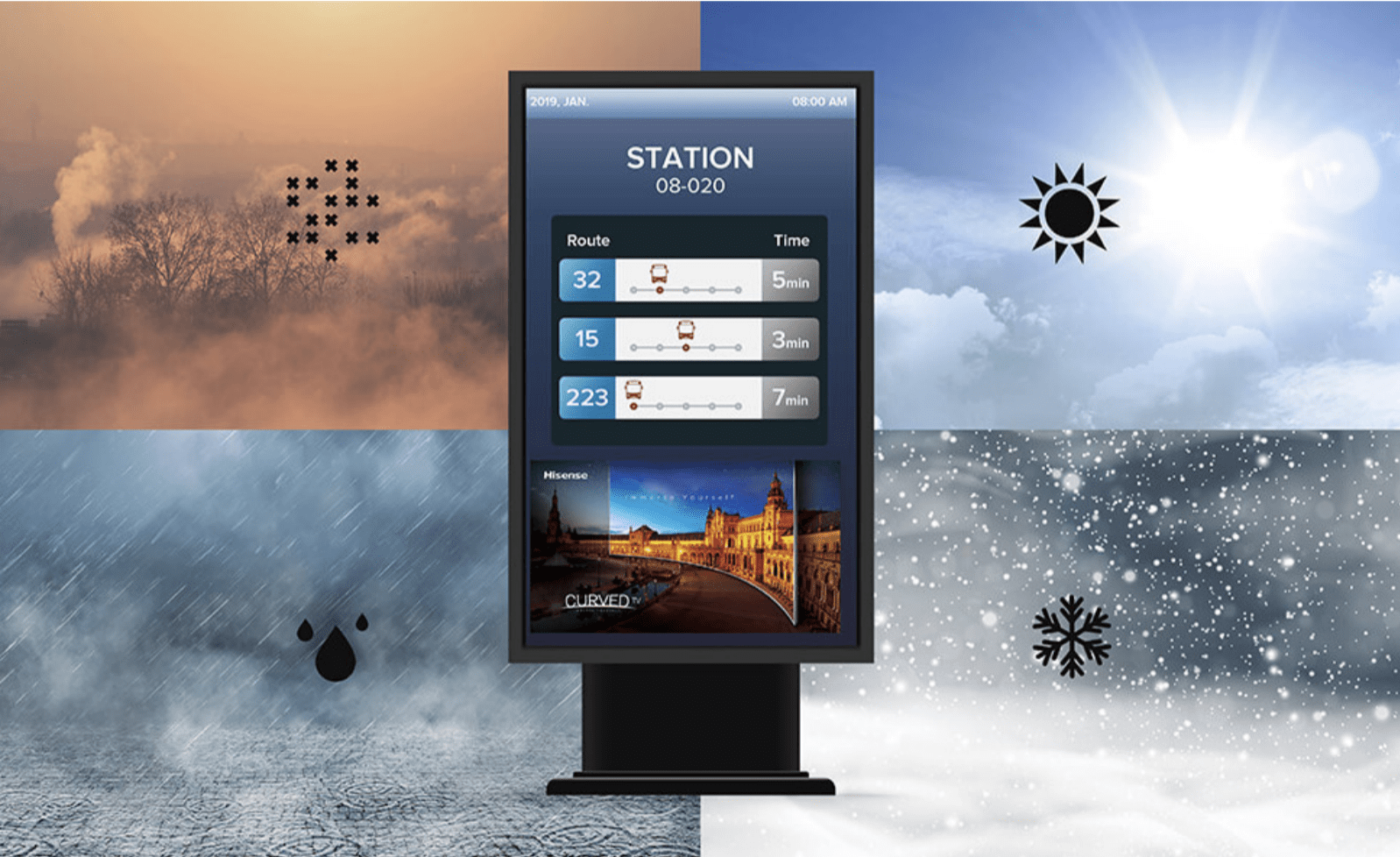 OUTDOOR SIGNAGE
IP55 or IP65 rating provides complete protection against dust and water. Built-in intelligent heating and cooling with intelligent automatic air circulation system. Anti-vandal glass protects against extreme weather and shocks.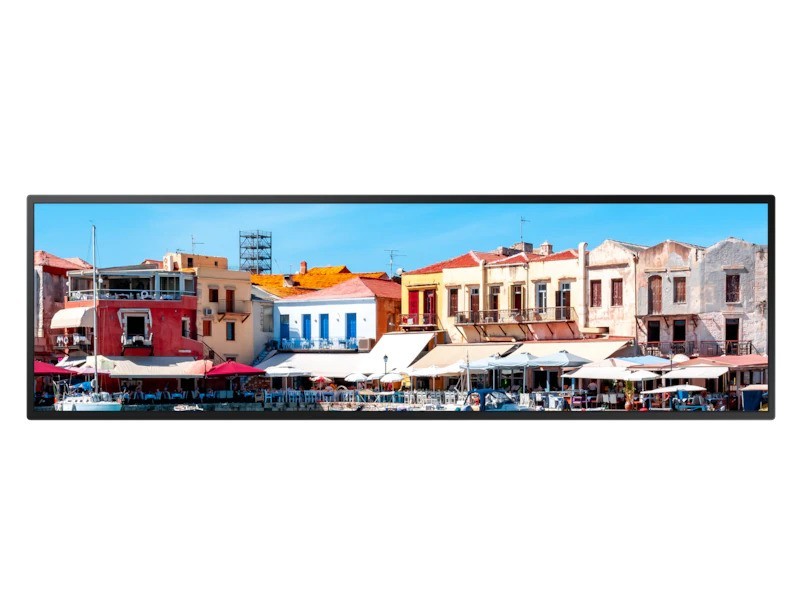 Samsung 37" SHR Stretched Display
Engage customers with a versatile screen.
With a flexible orientation and powerful visual technology that allows for truly eye- catching slim designs, Samsung SHR's stretched screens are the ideal and versatile labeling solution to meet your needs.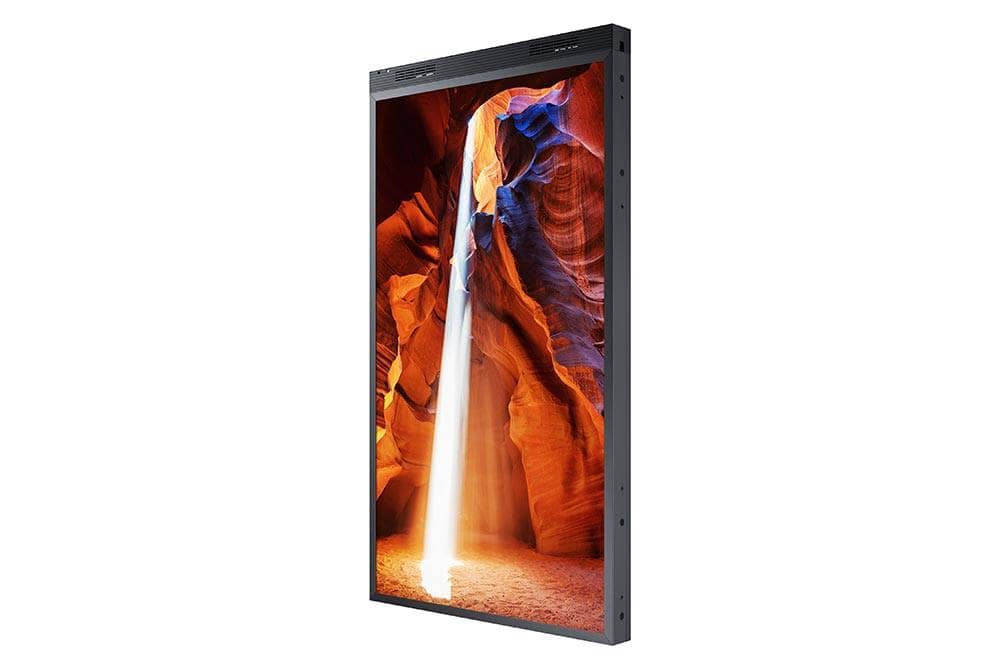 Samsung OM-Series Duplex Display
The OMN-D series has a double-sided display, both sides of which are adapted to the environment in which it is used. The 3000-nin brightness on the side of the window helps maintain image integrity regardless of sunlight, while the inside is 1000-nit on the inside, conveying information clearly.
The built-in MagicINFO Player S6 of the OMN series, supported by the powerful TIZEN operating system, increases the overall performance of the display, allowing easy content management and ensuring smooth transition and playback.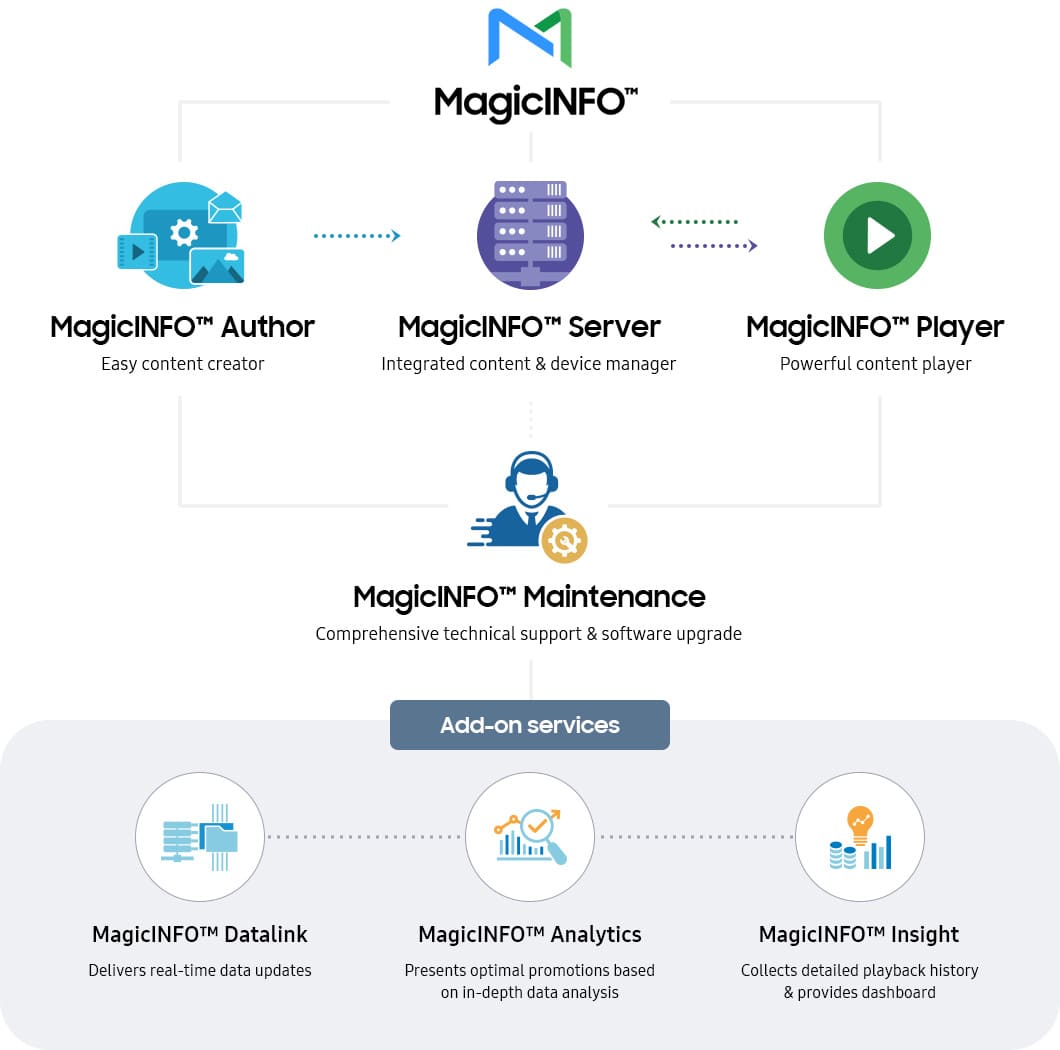 Samsung MagicInfo
MagicInfo software gives you complete control over content creation and management on Samsung digital screens. It doesn't matter if you use only one screen or hundreds of screens, because all screens are managed in one environment. With fully integrated software and hardware, you can also create multi- source views – for example, display a TV picture with a café menu. The system constantly monitors the status of the network, and, for example, errors caused by the local Internet network are logged automatically. This way, our technicians can solve all possible problems quickly and operatively.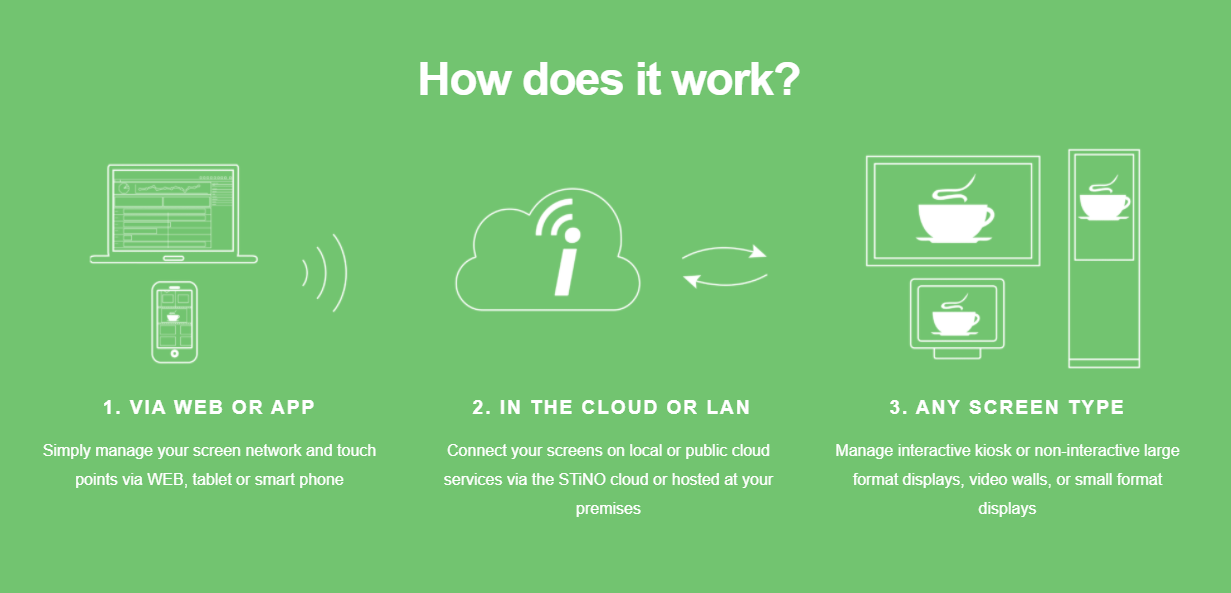 STiNO
STiNO helps you inform, advertise and entertain your target audience with innovative digital marketing products and technologies. STiNO solutions are used in countless different vertical market segments and industries. These client projects demonstrate the flexibility and versatility of highly scalable STiNO software solutions.